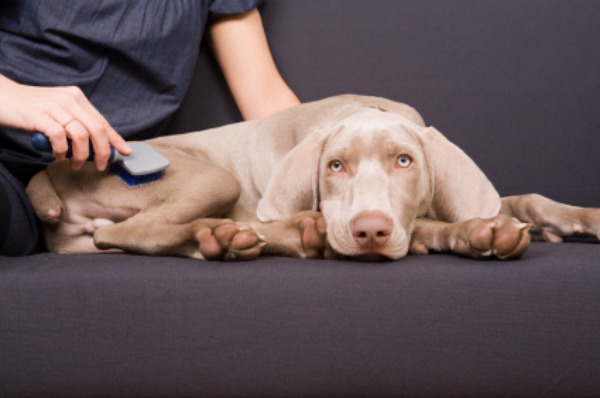 Needless to say, this case was messier than a utensilless special meal. It was like crewing lentils; where do I begin? With no other leads, I started in the only place I could think of: Facebook.
I walked across the co-op to retrieve my computer and typed in the website's address. The webpage hit my eyes with a furious white glow. My keys clicking louder than a hyena caught in a hobart mixer, I searched for someone, anyone, who could provide a lead on the mystery of brushdog: What was it? Where did it come from? Where is it now, and why has it gone?
"You look like you've got a lot on your mind, kid." I turned to see a mysterious alum standing behind me, cloaked in shadows. (For clarification: I am now somehow standing inside Facebook, and there are shadows despite the previously described bright white color that Facebook has.) "Let me guess: thinking about brushdog?"
"How did you—-"
"Oh, hush. You're not the first one who's wandered through here looking for information about brushdog, you know. It's a mystery that plagues us all, I suppose. Anyway, I can always tell when brushdog's one someone's mind. You could say it's a sixth sense."
I paused. She was mysterious; I liked that. "So, you know about brushdog?"
"If you want to know what I know, honey", she smiled, "it'll cost you."
"Do you take obiedollars?", I asked in desperation. I didn't have any flex points. I eat in Fairchild.
"Sorry, hun. You'll have to do better than that." Grimacing, I fished my last brussel sprout out of my pocket. I knew that, if there's one thing more valuable (and far more delicious) than money, it was brussel sprouts. Sure enough, a grin spread across her face and she readily accepted the payment. I still miss that brussel sprout sometimes.
"We've all seen the graffiti: oops, I accidentally gold-plated Brushdog. You know that one." I actually didn't. "We developed all sorts of mythology around brushdog. How was a god of sorts. Leah Whitesel made an avatar of brushdog, it lives in Seattle with me. When I went back for reunion two years ago, I discovered some graffiti on the wall from graduates of the class of '94, talking about brushdog's humble beginnings in a rummage sale, his rise in stature. Anyway, that's all I know. But Matt Borus '98 might know more. If you can find him, I'm sure he'll be able tell you more."
I was grateful for her help, even if it did cost me a delicious brussel sprout. "I'm grateful for your help", I said.
"Don't mention it, hun. And by the way, it's Debs. Debs Gardner '99."
She vanished into the white mass of Facebook as suddenly as she came. Was she an angel? A dream? Or just a helpful alum, willing to share her knowledge of brushdog to help close this case once and for all? In any case, I knew what I needed to do. And I knew just where to go.
TO BE CONTINUED in the next installment of Fairkid History Private Eye
(part 2 of the story courtesy of Matt Horowitz)